Coming soon!
I'm going to try screen printing this week (I hope) I will use the photo emulsion method. I've never used this method before. Wish me luck!
3 tags
3 tags
3 tags
3 tags
It's been a long time since I've printed or posted any of my prints. Life gets busy in the fall and then it's Christmas… Anyways, I plan on posting more and printing more. In a few months I will open an etsy store. I've got some designing to do and building up my stock. I also crochet and I will be posting these items too. Stay tuned!
4 tags
joelfantazzi: Almost every Simpsons screen cap I see, I know which episode it is from, which season it is from, what is going on in the scene, and what will be said next. Am I pathetic or really awesome? Don't worry, you're fine. Brad does the same thing. You guys should come up with a game…
holdfasth0pe: Madman // Dustin Kensrue So I'll...
4 tags
Brothers Blog →
HERMITOLOGY: 2011 Name of the Year Ballot →
trawlingthegrey: It's one of my favorite times of the year. The good men at Name Of The Year have released their 2011 Name of the Year Ballot (click the bracket above to embiggen.) As usual, the names in the bracket are 100% legit (to the best of the committee's knowledge.) This year's field looks to be… My favorites include: Col. Many-Bears Grinder Courvoisier Winetavius...
3 tags
love
One of the greatest joys is hearing my daughter sing. She currently likes "Gimme Sympathy" by Metric. Its like hearing an angel sing :)
PA
The rest of my East Coast trip… We took the Bolt Bus from Manhattan to Philly. Its a 2 hour bus ride and for some reason I was really tired so I slept the whole way there. I love it when I drink coffee and then fall asleep within an hour of drinking it. How does that happen? We get into Philly and I call my great aunt Helen who lives in Manyunk and she tells which train to take, to meet her...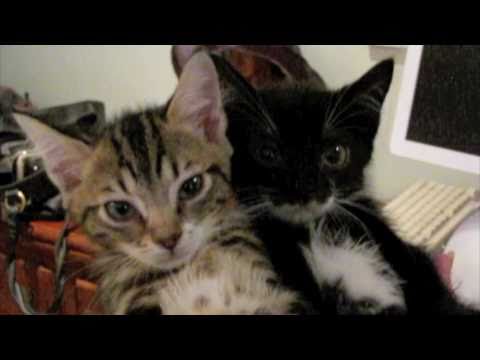 Brooklyn - Sorry this is really long....
I. Had. So. Much. Fun. We got in Thursday night, after a long day of traveling. I met Brad's brother and his girlfriend, Danny and Christine. We went back to their apartment and then out for a cocktail. I had Hendricks and tonic. It was divine. I think I had 2 of those. The bar we went to is called The Knitting Factory. Its also a venue. Danny works above it. Its the place him and Christine...
one little thing
My favorite thing about my trip to NYC was when me, Brad, Danny and Christine were sitting in the Knitting Factory and a Deer Tick song came on and Brad took my hand under the table. It was magical.
Really?
My mom is allergic to hair color. So I obviously don't color her hair. Or even highlight with color, even though it doesn't touch her scalp, shes still very allergic to it. I foil her hair with bleach. Shes fine with bleach. Now if she got color on her skin, she would go into anaphalactic (i know, thats spelled wrong,sorry) shock and we'd end up in the ER. And hopefully she would...
Hells Bells
Crazy night. I was supposed to cocktail, so I get to work at 6:30 and I'm told that I'm bartending in the smoking section. I had a bar to myself. Away from the terrible music. But with smokers. I am not a smoker. Gah, my throat is still scratchy… But its better than the bar right next to the stage. I don't know how Trish didn't go deaf. So I'm upstairs doing my...
dearprodigal: exitsinthehaze: Every time I get a little bit buzzed, I start singing Seal's "I Believe I Can Fly" in my head.  you mean r. kelly? I like the Me First and the Gimme Gimme's version ;)